Artificial Intelligence and Medical Technologies

The AIMT focus
The team focuses on artificial intelligence and original diagnostic techniques and their application in medical technologies. The group's focus reflects the rapid evolution of AI, especially in the deep-learning, where we design model architectures for specific tasks. The team has a deep history of collaboration with domestic (FNUSA, Brno, CZ; FNKV, Prague, CZ) as well as with foreign research centers (UMC+, Maastricht, NL; University of Rochester, NY, USA) and private companies (Cardion, s.r.o., MDT, s.r.o.). The collaboration resulted in many scientific and technological projects. Thanks to this broad collaboration, our software applications for fully automated analysis of biological signals and original methods help patients.
The AIMT vision
The main team vision is developing and applying new technologies to diagnose and effectively treat cardiovascular diseases.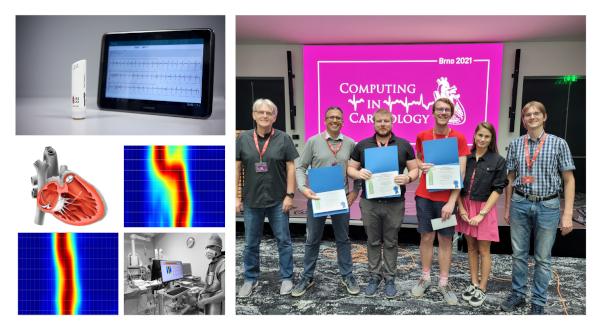 Research topics
Method of artificial intelligence for automated ECG analysis
Tools for the multimodal data inspection and post-processing – SignalPlant
Remote Therapy in Heart Failure Patients Using Artificial Intelligence
International awards
2014 - Boston, USA. The 4th place – algorithm detecting QRS in multimodal data (Computing in Cardiology/PhysioNet Challenge)
2015 – Nice, Francie. The 1st and 2nd place – algorithm detecting false alarms at the intensive care units (Computing in Cardiology /PhysioNet Challenge)
2017 – Rennés, Francie. Clinical Translation Award (CTA) for a software automatically evaluating electrical heart dyssynchrony (European Society of Cardiology and Computing in Cardiology)
2018 – Las Vegas, USA. The 1st place for algorithm detecting heart conduction issues (International Society for Computerized electrocardiology – ISCE – Left Bundle Branch Block Initiative)
2018 – US patent for new medical technology (VDI technology)
2021 – Brno, Czech Republic. Three 1st places - algorithm for classification of cardiac arrhythmias from ECGs (CinC/PhysioNet Challenge)
2022 – Copenhagen, Denmark. Award for the best scientific work and technological solution at the international conference of the European Heart Rhythm Association (VDI technology)
2023 – second US patent (VDI technology)
2023 – Top Cited Article 2021-2022 (Journal of Cardiovascular Electrophysiology)